Description
PLEASE R

ead the Below Tips Before Purchase:
1. Who can own this price: For those who owned all system diagnostic tools(any brands) with basic diagnostic functions for all car brands(read & clear codes, read live data).
2. Contact the seller to get an extra discount if you owned an all-system diagnostic tool with full function for all brands(bi-directional/actuation test, ECU coding, match, etc..).
3. Contact the seller to get an extra discount if you owned a Launch all system diagnostic tool with function(bi-directional/actuation test, ECU coding, match, etc..).
4. What you must do: Send clear pictures which can clearly show your old device with serial number to the seller (below picture for your reference). Then send your scanner to us!
✅The Flagship Vehicle Scanner: LAUNCH X431 PAD V is equipped with the new SmartBox 3.0 diagnostic box, which supports the diagnosis of passenger cars(12V), commercial vehicles(24V), and new energy vehicles. Wide coverage, strong diagnostic functions, and accurate test data... (24V car diagnosis needs to purchase another set of special wire equipment!)
✅Online Programming+Active Testing+Key Program: Online programming can help you re-match, re-learn, and re-code a new ECU. Bidirectional control/active test to request information or command the actuator to perform specific tests. If you know the password, this startup scanner can add a new key to the car. Added topology module mapping, which is convenient to view the communication structure between modules and view real-time data in chart form.
✅33+Reset Service(26 free and 7 can be purchased):  SAS,BRAKE,GEAR,OIL,IMMO,INJEC,TPMS,BMS,BLEED,ETS,DPF,SUS,AFS,SUN,GEARBOX,EGR, Language Change,A/F,Coolant Bleed, NOx Sensor,Seats Calibration,Stop-Start,Transport Mode,Tyre Reset,Windows Calibration,AdBlue Rest,A/C relearn, Intelligent cruise control, Engine power balance monitoring, Motor angle calibration, High voltage battery diagnostic, GPF regeneration, Key program.(The last 7 functions need to be purchased to use, not buying these 7 paid functions will not affect the use)
✅High-quality Upgrade Hardware: 10.1-inch sun-visible screen, 2.4GHz/5GHz dual-band WIFI, 64GB storage (up to 128GB expansion), 8-core 2.0GHz CPU, 9360mAh supports QC3.0 fast charge, front 800W, rear 1300W camera, with charging dock station, resolution up to 1920x1200. X431 PAD V features a smart box, providing a faster dual Wi-Fi vehicle and 5G network communications.
✅Remote Diagnosis+Email Sharing+QR Code Sharing+

Topology Map

:

 
LAUNCH X431 Pad V Provide more portable help and functions, such as report printing and sharing, making it more convenient for you to use!
Provide module network structure topology, allowing you to understand the car more clearly and simply! Up to 5 DTC display methods: topology, list, single click to enter the control unit, intelligent diagnosis details, vehicle diagnosis report.  (The topology is not suitable for all vehicles, please check the compatibility of VIN before placing an order!)
✅Extended Module Function: Also, LAUNCH X431 PAD V supports ADAS, Wifi printer, Battery tester, TPMS tool, endoscope, oscilloscope, multimeter, battery equipment, anti-theft device programmer. (Not included in the package)
What is the difference between LAUNCH X431 Diagun V, LAUNCH X431 Pro Mini 3.0, LAUNCH X431 V 4.0, LAUNCH X431 PRO3S+, and LAUNCH X431 Pad V?
For more detailed comparisons, please click to learn more!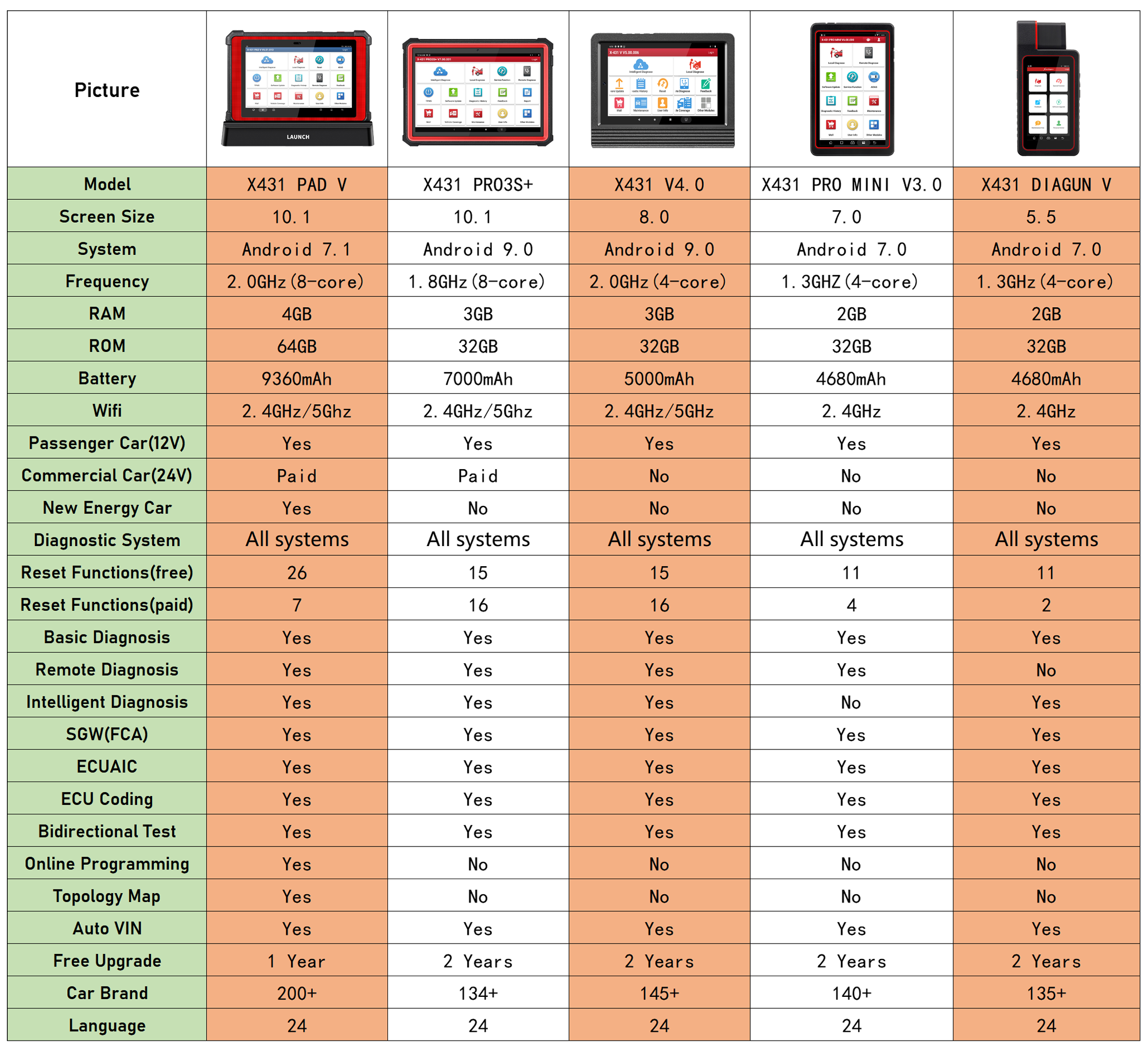 Note:
1. Models supported by online programming: Mercedes-Benz, BMW, Volkswagen, Audi, Porsche, FAW Mazda, Changan Mazda, Nissan, Infiniti, Land Rover, Jaguar.(Please tell me your model before buying, we will check whether your model can be programmed!)
2. Currently, Spain and Portugal can't support programming functions. (Using VPN can support more models!)


🤓What is the difference before LAUNCH X431 PAD V, LAUNCH X431 Throttle, and LAUNCH X431 TAB II?
✊The LAUNCH X431 PAD V, LAUNCH X431 Throttle, and LAUNCH X431 TAB II are the same in terms of product function and hardware.
The difference between them is that they look slightly different; the LAUNCH X431 Throttle is an American machine, the LAUNCH X431 TAB II is a European machine, and the LAUNCH X431 PAD V has no regional restrictions!
Specifications:
Operating system: Android 7.1
CPU: Qualcomm MSM8953 2.0GHz 8-core
Memory: 4GB
Storage: 64GB (up to 128GB expansion)
Display screen: 10.1 inches, fully fit, sunlight-readable screen
Resolution: 1920x1200
Touch screen: IPD touch screen
Camera: the first 8 million pixels, the rear 13 million pixels
Wi-Fi: Support 2.4GHz&/5GHz dual-frequency x2
Working temperature: 0℃~50℃
Size: 320mm*211mm*46mm
Video:
Package List:
1 * LAUNCH Pad V
1 * User Manual
1 * Heavy Truck Module
1 * OBDI Power Cord
1 * OBDI Adapter Cable
1 * Packing box
1 * Base
28 * Connector Tool
Payment & Security