Description
✅Upgrade Hardware:
THINKCAR Thinktool Pros+ is equipped with the 4 quad-core processor 2.0HGz that offers a fast operation speed and diagnosis. 10-inch color LED screen and the Android 10.0 operating system allow you to multitask. 128GB memory is enough to store data; support 5G Wifi, update and download faster.
✅Advanced ECU Coding and Programming Functions: 
ThinkTool Pros+ scanner allows the coding of the ECU itself, making it a more useful option for professional garages. You can reprogram the vehicle with the latest OEM calibration files to diagnose and repair car problems. 
(Due to policy restrictions, programming functions are temporarily not supported in the United States, Canada, Spain, and Portugal. Using VPN can solve this problem!)
✅Bi-directional Control+Guidance Function+Topology Map: 
Some tests this tablet scan tool can perform are turning the fuel pump on and off, cycling the a/c clutch on and off, and even helping with an emissions leak test. With professional-level topology diagram diagnostics, you can see the conditions of all systems at a glance in a diagram. If you don't know how to use it, the Guidance function will help you!

✅34 Maintenance Services: 
Including SAS reset, BRAKE reset, GEAR reset, OIL reset, IMMO reset, INJEC reset, TPMS reset, ETS reset, DPF reset, SUS reset, AFS reset, SUN reset, A/F reset, Tyre reset, AdBlue reset, AdBlue Rest, AIRBAG reset, Battery Matching, ABS Bleeding, GEARBOX Learn, EGR Adaption, Language Change, Coolant Bleed, NOx Sensor, Seats Calibration, Stop-Start, Transport Mode, Windows Calibration, AC System Relearn/initialization, Intelligent Cruise Control System, Engine Power Balance, Gas Particulate Filter regeneration, Motor Angle Calibration, High Voltage Battery Diagnostics. 
Why Choose THINKCAR THINKTOOL PROS+?
1. Complete system diagnosis, High-end online programming capabilities. 
Cars supported by online programming: Audi, BMW, Porsche, Mercedes-Benz, Volkswagen, Land Rover, Nissan, Skoda, SEAT, Subaru.
2. OE-Level Wireless Intelligent Diagnostics, covering more than 143 car brands.
3. Unique Modular Design, supporting up to 8 functional modules for any application scenario.(These are not included in the package and need to be purchased separately)
4. Supporting 34 Service Reset Functions, more to cover soon.
5. Topological Graph、Real-time data、Fault diagnosis report.
6. Supporting ADAS Calibration、ECU code、Key programming、
Bidirectional
/Active test、
TPMS、
Automatically check Vin.
7. Remote Technical Support via TeamViewer.
8. Android 10.0 running on 10-inch HD IPS Touch Screen.
9. Powerful Quad-Core 2.0GHz processor with 4G+128G Hardware Configuration.
10. 2 years free update
11. Support 14 languages:
 English, French, Spanish, German, Italian, Japanese, Portuguese, Russian, Polish, Turkish, Dutch, Hungarian, Arabic, and Traditional Chinese.
What is the difference between the THINKCAR all system diagnostic scanners?
For more detailed comparisons, please click to learn more!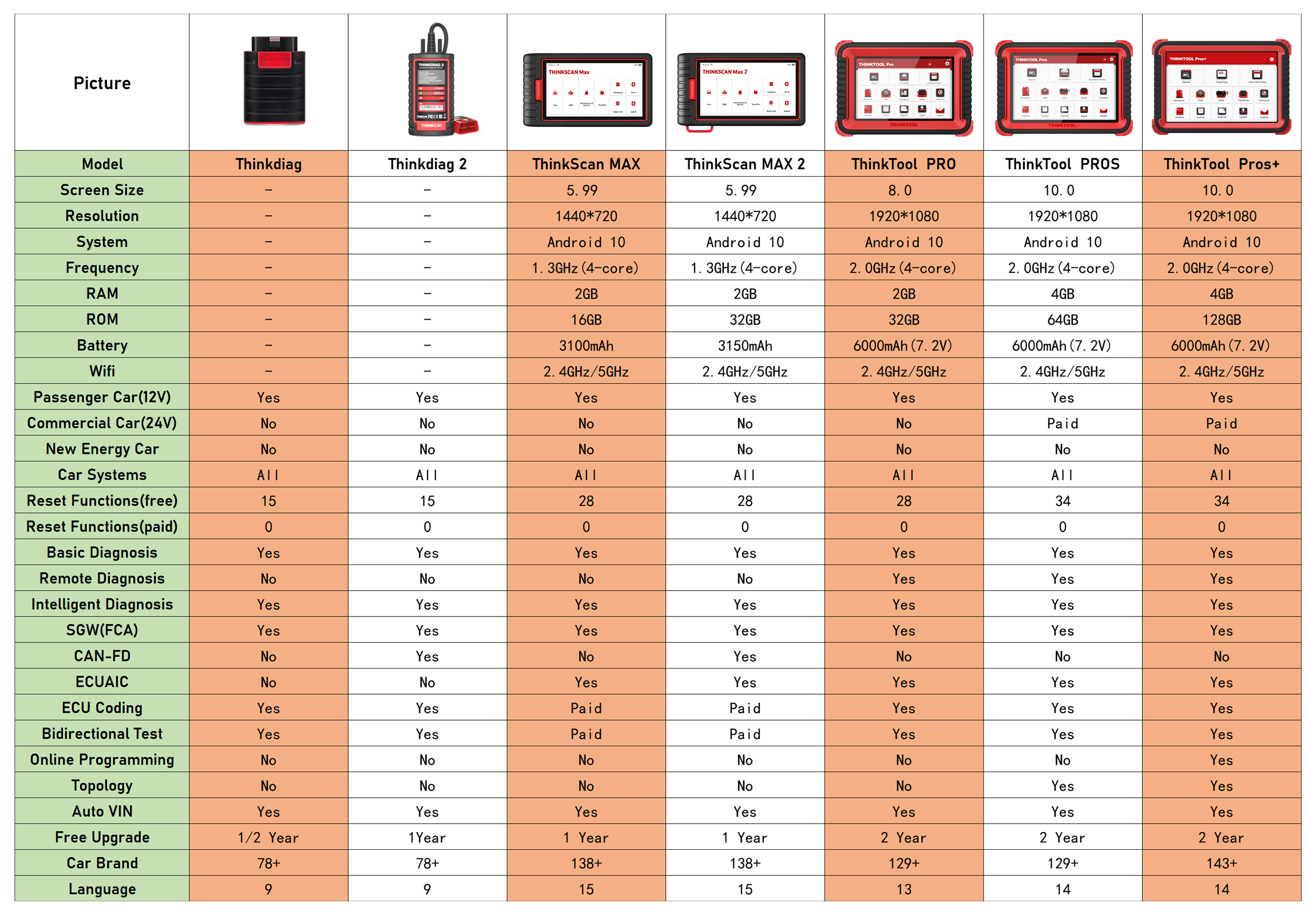 Specification:
Operating System: Android 10
Camera: Rear camera 8.0MP
Memory:4G
Network: Wi-Fi, WL AN 802. 11b/g/n
Storage:128G
Bluetooth: Bluetooth 5.0
Battery: 6000mAh/7.6V
Working Temperature: 0°C ~ 50°C
Screen: 10 inches
Storage Temperature:-20°C ~ 60°C
Video:
Package List:
1 Whole Set Machine(as the picture shows)
Payment & Security
QUESTIONS & ANSWERS
can i use haynespro on this ?

Hello, what is haynespro?

How do i use vpn to do programming?

Hi, using a VPN just changes your internet address to another country. After THINKCAR Thinktool Pros+ is included in the network, it will judge whether the programming function can be used according to your network!

does this unit have a browser ?

Sorry, it doesn't have.

Здравствуйте мне надо T,-code не как немогу его активировать?

Здравствуйте, какой продукт вы используете? Вам нужно сделать запрос в библиотеке запросов кода продукта?

Do you have to buy the TPMS or the thermo imager separate?

Yes. This product does not come with expansion products!

Combien de langues prend-il en charge ?merci beaucoup

Sir,Anglais, français, espagnol, allemand, italien, japonais, portugais, russe, polonais, turc, néerlandais, hongrois, chinois traditionnel.

Where can I seel online programming car list and models?

You can see the 'online programming' in the third product picture.

ThinkTool PROS+ Support intelligent recognition of programming files, convenient and quick operation. Support for Mercedes-Benz, for Benz New Energy, for BMW, for BMW New Energy, for GM, General New Energy, for Ford,

Ford New Energy, for Volkswagen, for Volkswagen New Energy, for Audi, for Audi New Energy, for Land Rover, for Nissan, Skoda, for Seat, for Mazda and other models Programming function.

Does it support Ford us online programming

Yes,it comes with online programming features and works well on Ford US.

The difference between Thinkcar pros+ or plus and thinkcar car pros.

Thinktool Pro support ECU coding on the programmed module but can not do online programming on the blank module.
Thanks for asking.

can it do ecu programming of new module?

Sure